#Art
#Community
Dagar the Desert Hawk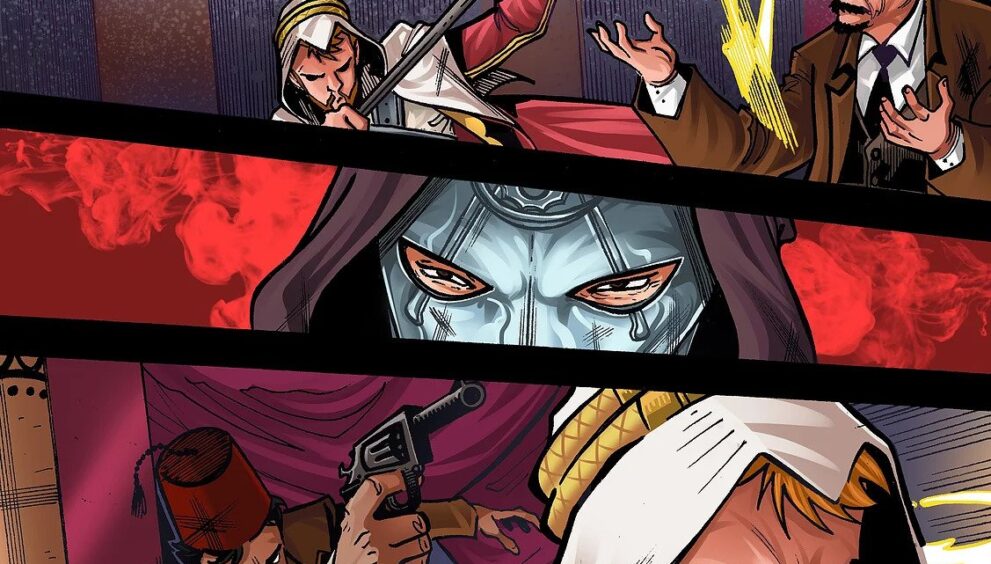 You might know him as your local Imam, a man who conducts regular Friday khutbas at Melbourne Madinah masjid, located in the heart of the CBD. Maybe you have seen him volunteering for several da'wah organisations such as Mercy Mission Australia or conducting his regular classes or counselling services. Whether you are familiar with his work or not, what can be said about Imam Furqan Jabbar is that beneath his calm demeanour is a long list of qualities and talents that the Muslim community has probably never seen before. Nonetheless, what can be said about Imam Furqan is that there certainly is no one else like him.
Born and raised in Melbourne, Imam Furqan wanted to make a difference within his local Muslim community. He decided to develop his Islamic knowledge, pursuing his love for fiqh (or Islamic theology/jurisprudence), undertaking a Bachelor in Islamic Studies from King Saud University in Riyadh, Saudi Arabia and a Master's degree in Islamic Banking and Finance from La Trobe University in Melbourne.
Yet, beyond his bookish aura, Imam Furqan has a grand dream. As a young boy, Furqan found himself drawn to reading superhero comic books, whilst wrestling with the possibility of his Muslim identity being compromised in the process. However, over time Furqan came to the conclusion that storytelling is part and parcel of the Islamic oral history.
"Storytelling is important, provided that there is some wisdom behind it," says Furqan.
Nevertheless, wanting to inspire the young generation through his passion for comic art and storytelling, Furqan has produced his own brand of superheroes.
Soon to be completed and published, Furqan has created an adventure storyline with a series of remarkable characters, called Dagar the Desert Hawk and the Sons of Darkness.
The story is a 180-page graphic novel (to be divided into two parts), which chronicles the tale of an experienced adventurer who happens to convert to Islam. Given that the main character is Muslim, the story aims to provide younger Muslim audiences with heroic role models to counter negative portrayals in mainstream media.
First to hit the public domain in the 1940s, this comic reclaims a classic golden-age story of Dagar, a desert adventurer who wore traditional Bedouin robes.
"Whilst Superman may strive for truth, justice and the American way, this particular hero strives for Islamic principles and Islamic values," explains Furqan.
The original story presented a one-dimensional storyline which by today's standards may be viewed as racist and sexist. However, what makes this reimagined story unique is its ability to embrace and amalgamate both eastern and western values. This passion project of Furqan hopes to imbibe traditional Islamic values into an impressive array of adventure seeking role models for young people to emulate.
For instance, young girls may be excited to hear about the strong female character in the book, Ayesha, a skilled archer and combatant, on par with Dagar. As Furqan explains, she operates by a "code of honour and is willing to help others, even if it means knocking a few heads along the way to get the job done".
"(The comic book) is quite an 'out of the box' project, I'm proud of the work, and I think Muslims, as well as non-Muslims, will love it, inshaAllah," says Furqan.
Undoubtedly, what makes this story so compelling is the dynamic narrative potential, where spin-off stories could easily be explored in the near future. Currently, the comic book is in the final leg of the race seeking crowdfunding to complete the job. However, the process to create this comic book has been no easy task, by any means.
"There were certainly times I wanted to give up," says Furqan
Furqan encountered many roadblocks along the way in pursuing this artistic endeavour, grappling with restrictive social norms and boundaries, as well as struggling to find like-minded colleagues.
"I don't think Muslims should be ashamed to be Muslim and creative, at the same time. Often, creativity is shunned in many Muslim communities." Nevertheless, I am encouraged for "the motivations of the project…to inspire other young people to pursue (their own) creative pursuit(s) for themselves," explains Furqan.
Leading the expedition as the writer and creator of the project, Furqan has worked with a selection of talented individuals including artist and illustrator Eder Messias, editor Ducan Eagleson and cartoon colourist Slamet Mujiono, who have helped to create this collaborative work.
The comic book also serves to provide da'wah for young people to discover Islamic ideas and values without blatantly stating them. For instance, rooted in Islamic tradition, the storyline subtly explores the tale of Gog and Magog, where readers are transported to a time where they can journey through the trials and adventures of the characters.
Sharing his insights on the project, African American author and creator of the 'Childhood Champions', George Green explained that "The project fills a much-needed gap in the Islamic community in terms of children's books."
"The characters, are characters which are (generally) underrepresented in Islamic children's books, and I think the story is full of action, excitement and adventure," said George.
Award-winning filmmaker and founder of Blueprint Studios, Reuben Street has also endorsed and praised the project saying, "I always think about my daughter and my son and what they are reading and what they are learning from these sources. But the problem is that most things out there do not have that Muslim moral or value attached to it. So, it's awesome to see stories that have a young reader feeling proud to be Muslim."
As Imam Furqan explains, the purpose of this story is for the audience to go through the fictional adventure with Dagar and become inspired by his extraordinary escapades.
"I think it's important for Muslims to be authentic to themselves," said Furqan.
Storytelling may have begun as a passion project for Furqan, yet the tale of Dagar also highlights the imperative need for Muslims to reclaim their voices and worthy experiences. Indeed, in this global climate, creativity has the enormous potential to dispel ignorance. The final message Furqan hopes to imbue into his readership is that when times get tough, like Dagar, they too, can draw on faith to find the strength and willpower to never give up.
For more information and to support the project, visit: https://www.dagarthedeserthawk.com