#Dessert
#Food
A Post-Taraweeh Fix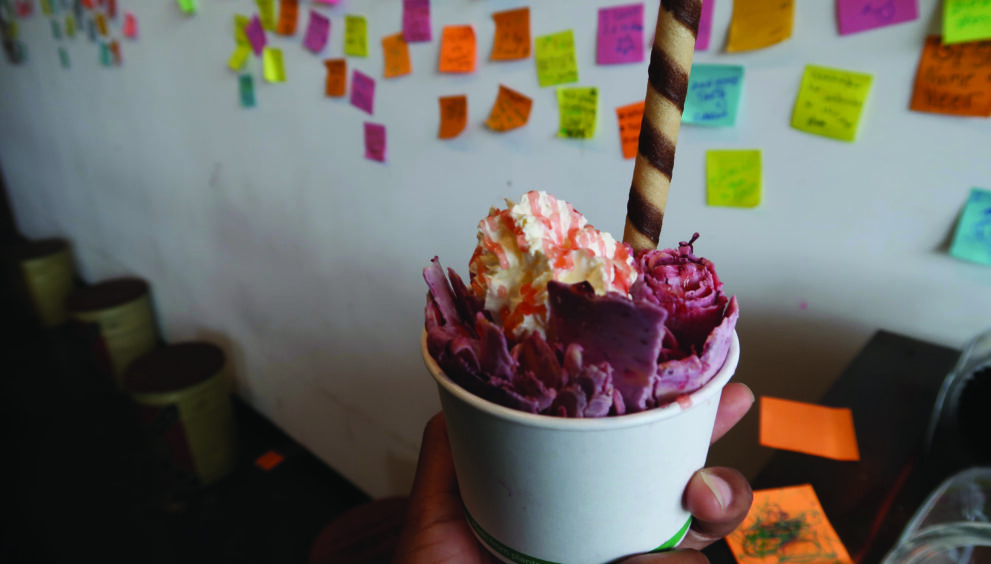 You know that feeling when even after taraweeh prayers your stomach still hasn't gone down but you think 'I'm pretty sure I can fit a quick snack?'
Well if you are in the west, more specifically the Tarneit area and most likely coming out of Al-Taqwa Masjid… Rollys is just a three-minute drive for a quick post-taraweeh snack.
Located in the Wyndham Village Shopping Centre, the Thai-inspired ice cream parlour serves handmade natural ice cream scrolls.
Made by using an advanced cold plate which helps create smoother and creamier ice-cream flavours without unnecessary preservatives. The ice-cream scrolls come in 7 different flavours: Strawfer, Chocblast, Berma, Fruitoholic, Banco, Oreonie and Paan Pan.
For those who aren't big on ice cream there is a variety of smoothies and juices to help you get the right post taraweeh fix.
To be fair I missed out on experiencing this place at its peak time by heading there at around 3 PM where it was just me, an older couple and a young schoolgirl waiting in line to order. Judging by the colourful sticky notes on the wall filled with customers' expression of satisfaction it's obvious that this place is usually filled in the evenings. Which is why it's open till 11 PM, so even if your mum or dad is taking too long chatting to people after prayer you'll still make it on time for your snack.
I ordered the Fruitoholic, presentation wise the ice cream did look a bit stiff #nolie, but the creamy fruity taste redeemed it. It was a mixture of strawberries, mixed berries, mango, banana and mixed nuts. Taste-wise, it was as if I was eating an ice-cream fruit salad, minus the messy fruit juices! The whipped cream on top added that extra bit of sweetness which prepares your tastebuds for the creaminess of the ice cream beneath it.
Overall this place is perfect for you and your family or a group of friends, to relax and enjoy some Ramadan banter, before heading home to the crazy dishes you left whilst rushing off to taraweeh. Its open space and arrangement of seats make it perfect to go as a group. Just a few minutes away from the local masjid you'd definitely pass it on your way home so why not stop by and grab your well-deserved post taraweeh treat??
Address: 32b Wyndham Village Shopping Centre, 380 Sayers Road, Tarniet 3029
Opening hours: Mon- Sun 12 PM – 11 PM
Ambience: 6/10
Location: 10/10
Food: 7/10
Customer service: 7/10
Value for money: 7/10
AUTHOR BIO
The Hungrie Foodie
21, Oromo-Australian.
A connoisseur of brunches, a collector of memes & a tea advisor.
---
Originally printed in Podium Magazine Edition 1, published in 2017.