#Features
Feature Interview – Ayan Omer Shere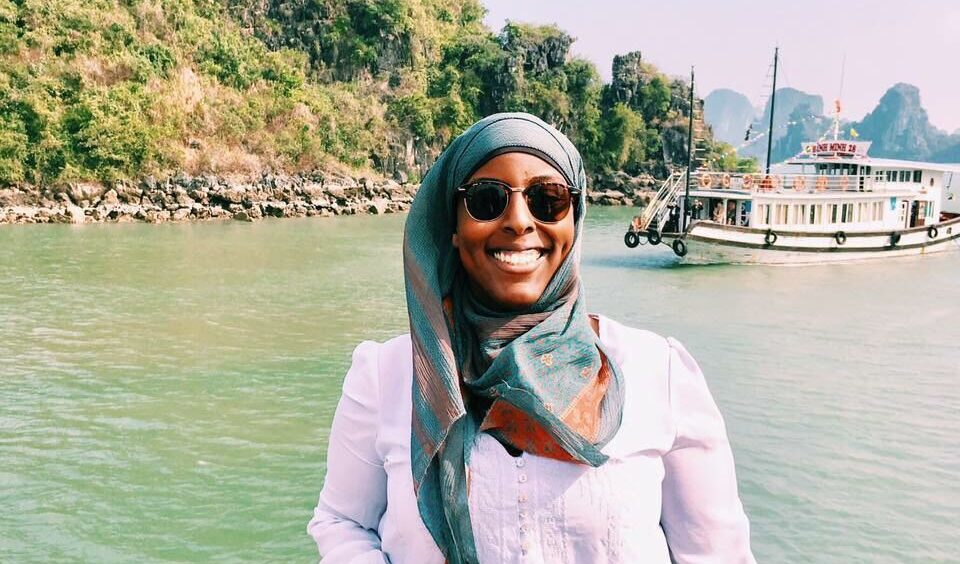 Tell us about yourself?
I was born in New Zealand but migrated to Australia when I was 13. My background is Somali and I'm the oldest of seven children. I currently work in two roles – as a Registered Nurse at the Alfred Hospital Emergency and Trauma Centre and as the Victorian State Team Leader for National Zakat Foundation (NZF).
What inspired you to pursue a career in nursing?
Growing up, I never thought of being a nurse. I wanted to be a journalist! It was always my dream to be an overseas eld reporter. However, post 9/11 my perspective on media changed. I wanted to work in a field where I could help others and my interest in field reporting changed into international humanitarian aid work.
After I received my year 12 results I was still confused about my career pathways – my mum actually suggested, "what about nursing" in a matter-of-fact way, which led me to explore the possibility of this career. I found that there were many nursing opportunities to pursue international humanitarian work, so after that I was set.
However, it wasn't as simple as just deciding – I didn't receive the best year 12 results so I decided to apply beyond just the major metro universities in order to increase my chances. Alhamdulillah, I got accepted into Ballarat University (I think now it's called Federation University) and I did my first year of nursing there.
That year was a very pivotal year in my life. I had to step out of my comfort zone – I went to a university where at the time, most people hadn't even met or come across a person of colour, let alone a Muslim. I had to juggle life and study with the travel to and from Melbourne to Ballarat on a daily basis by public transport for the year. I had to work really hard to get high grades so I could transfer to a uni closer to home – and Alhamdulillah from second year onwards – I was able to get into La Trobe University.
Anyways, after finishing my studies, Alhamdulillah I got a graduate position at St Vincent's Hospital where I stayed for two years and since then I have been working at the Alfred. Fast forward six years later and I still love being a nurse, particularly working in Emergency.
Walk us through your journey with NZF?
I always wanted to do volunteer work and for years had never found an organisation that appealed to me. When I graduated and started working full-time, I thought I would find it easier to find volunteer work within the Muslim community. I remember applying for a very big Islamic charity organisation that does international aid work – which aligned with what I wanted to do professionally as well.
I was called into the office one day for an interview where I was asked what I do. I informed them that I am a nurse but I am ready to commit and dedicate to this volunteer position. To which I was told "sister you have a good full-time job, focus on your job".
This kind of put me off volunteering for a bit because I never thought it would be so difficult to find volunteer work in the Muslim community. A year later, in September of 2013 to be exact, I was at an AlKauthar course – Dawah Power by Hamza Tzortzis. During the break, two brothers from Sydney came on stage and gave a presentation on local zakat and went through some real-life case examples and statistics of Muslims going through hardship in Australia.
The stories broke my heart and as soon as they mentioned their intentions to build a team in Melbourne, I was like "I need to join this organisation!" So I put in my expression of interest then and there, however for some reason they didn't get back to me immediately. So I kind of hassled them over email for months until they got sick of me and brought me on board as a caseworker in December and now the rest is history!
I am still with NZF. Alhamdulillah it has been one of the most rewarding things in my life. I am glad I persisted! I love that I am able to work in the social service industry and community field in an Islamic context.
Seeing how zakat can transform society and lives is amazing to witness and be a part of. I work with such an amazing team, we are blessed to do the work we do – uplifting a pillar of Islam in Australia. I really do feel like I have the best of both worlds being able to work two jobs that I love very much at the same time.
Through your work with NZF what do you believe are the main issues affecting Muslim youth in Australia?
I think one of the biggest issues affecting Muslim youth is unemployment and disengagement from the community.
In terms of unemployment, I feel that part of the problem is insufficient education and awareness around alternative career options and pathways beyond the scope of just medicine, law, accounting and engineering.
Additionally, the transition from university to the workforce and trying to and work as soon as you finish uni is not as easy as it sounds! As a community, we need to be more supportive and facilitate opportunities for each other. We need more Muslim professionals who have made it, coming out to guide and mentor new graduates. Helping them to establish links and make connections.
Secondly, in terms of youth disengagement from the community, from an NZF perspective, we have come across some young people who are isolated from the Muslim community, and sometimes, from family. There are always complex reasons behind what has led to this, but this is where we can step up and offer that support and guidance so they are not led astray or fall in with the wrong crowds.
What advice do you give to Muslim youth trying to balance both their careers and involvement in the Muslim community? Why is it important to do both?
As Muslims we have an obligation to improve our communities. Many of the values of Islam are ones that are designed to uplift society. We are constantly reminded to think of others; in fact there is a hadith that says "the most beloved to Allah are the most beneficial to the people" [Tabarani]. I admit it can be hard to juggle community and volunteering commitments with a career, however, it is possible. My main advice for youth trying to balance both is to have self-discipline and constantly renew your intentions.
When I first started getting involved in community work I was getting easily overwhelmed with the increase in workload. Self-discipline helped me tame that laziness and procrastination. It allows you to be more organised, accountable and productive.
It is easy to get so caught up in our day-to-day activities and work that we can often lose sight of the bigger picture. I find that renewing my intention helps me refocus and reassess why I am actually doing what I do. Most importantly, it helps me to re-evaluate if the work I am doing is actually for the pleasure of Allah SWT. This keeps me motivated.
When working with other young volunteers, what values do you try and instill in them?
There are two values, which I admire in volunteers – leadership and passion.
I try to instill leadership in young volunteers by helping them realise their
potential and encouraging them to step up, take on more responsibility and provide as many opportunities outside their role to grow.
Though passion cannot be instilled in others, I try to facilitate passion by providing an environment that is flexible, encourages growth, creativity and does not confine volunteers to fixed roles. For example, if an admin volunteer is really passionate about a particular project, I am more than happy for the volunteer to pursue and lead this project within the organisation if it is for the betterment of the community. This is the type of experience I had as a volunteer with National Zakat Foundation.
What do you expect for the future of Muslim youth?
I want to see Muslim youth at the forefront of society being leaders and making change not only within the Muslim community but also within the wider society. The more young people are involved and speaking up, the more we will grow as a community Inshallah.
---
Originally printed in Podium Magazine Edition 2, published in 2017.