#Dessert
#Food
Late Night Sweet Stop: Hawat Pastry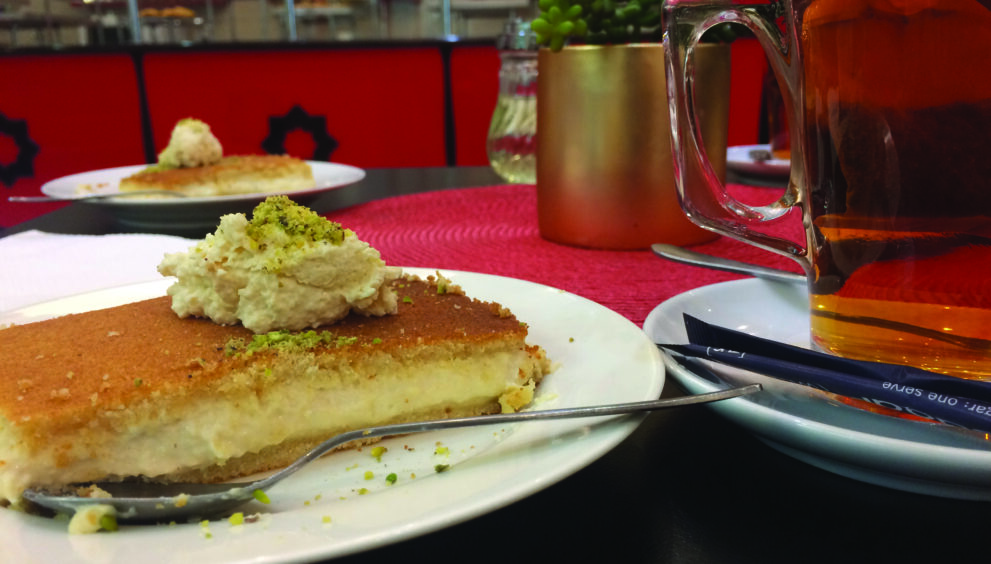 A late night dessert craving took us to a quaint little Lebanese sweet shop that was much more than that. Walking through the glass doors you can't avoid rows of trays heaped with Maamoul, Basbousa and Baklava in every shape and form; an impressive display of cakes and pastries, and an ice-cream cart with a range of flavours.
The little café was clean and tables arranged tidily. We opted for a cup of tea and my favourite Lebanese dessert, Kanafeh topped with some cream.
Hawat's kanafeh is perfect! Not only do Hawat manage to achieve the perfect balance of crunch and creaminess essential to good Kanafeh, but the Kanafeh itself is not sweet at all. You have the liberty to pour as much or as little sugar syrup on it as your palate allows and heart desires. As for me, I like a liberal slather of syrup on my Kanafeh paired with a sugarless black tea – Ahhh the craving well and truly satisfied!
Hawat is by no means the only sweet option on Sydney Road. The popular road has a number of sweet shops, whether it's Lebanese sweets, subcontinental sweets or cakes and biscuits. Hawat is, however, one of the best in the business.
So if you are out late and craving something sweet, drop in for a bite.
Address: 11-13 Sydney Road, Coburg 3058
Opening hours: Everyday 9am to 11pm
Ambience: 8/10
Location: 10/10
Food: 9/10
Customer service: 8/10
AUTHOR BIO
Leena Shoukat
Originally a Sydney sider, Leena now calls Melbourne home and enjoys exploring and eating her way around the city. She is currently on maternity leave and juggling a 6 month old with a dessert catering business. Her delectable desserts can be seen on facebook and Instagram @LS Cupcakery.
---
Originally printed in Podium Magazine Edition 2, published in 2017.